This Is Where The World Drops Off
This Place Is So Quiet, Sensing That Storm
17 July 2013 @ 01:32 pm
PORN TIEMZ IS COMING!!!!
DO EEEEEET!!!!! YOU KNOW YOU WANT TO.

BBTP banner by

florida_minxie
13 July 2013 @ 08:39 pm
There is no justice, there's just us.
So, George Zimmerman just made it acceptable for any white man carrying a gun to kill unarmed black teenage boys.

Way to go, Florida.

And here's the part I dread. When I go to work tomorrow, where I am 1 of 2 black people in a workforce of 100+, people are gonna ask me, "So, what do you think about the verdict?"

My answer will be this.

"OH, I FEEL GREAT. LONG AS I DON'T HAVE TO WALK HOME, YOU KNOW. AFTER ALL, THIS IS THE PACIFIC NORTHWEST, EVERYONE WEARS HOODIES HERE. EXCEPT WHEN THEY SEE I'M BLACK, WELL...SHOULD BE OKAY. I MEAN, I'M AMERICAN, RIGHT?"

Yeah. We see how well that worked for Trayvon Martin.
26 June 2013 @ 12:30 pm
In Celebration of Today's DOMA and Prop 8 Ruling
...and in celebration of Pride Month, I give you one of my favorite Queer As Folk vids.

PROUD, by Heather Small




This video is about love. This song is about love, and empowerment. And never has it been more apropos than today.

I'm wearing my Pride beads to work today.

I step out of the ordinary
I can feel my soul ascending
I'm on my way can't stop me now
And you can do the same, yeah
10 March 2013 @ 06:27 pm
The Wonderful WTFery and Wankery That Is QAF Fandom
Fandom...I would have words.
To start with, I have met enough of you and/or had long, lengthy phone convos with you that you know I'm real. For those who haven't met me before...
My name is not actually Red. Although some of you that I've met call me that. I'm female, Black, 50, married, 2 daughters and a new grandson.
There you go. Ask anyone, they'll verify this. They may tell you my real name. I don't care. Seriously. In fact, in the spirit of disclosure, I'll tell you. It's Shawn, okay?
( Now, onto the WTFery that manifested this weekend. )
01 March 2013 @ 11:03 pm
I'm gonna just toss this out there...
JUPITER'S FUCKING COCK!!! SPARTACUS IS GONNA FUCKING KILL ME!!!!

K, as you were.
03 February 2013 @ 07:05 pm
Superbowl Sunday
Ravens own the first half, Beyonce, DESTINY'S CHILD REUNION OMG!!, Clydesdale commercial, 109 yd kickoff return for touchdown...40 MINUTE POWER OUTAGE...

And now the fucking 49ers are coming back. GDI.

I LOVE FOOTBALL!

PS, PLEASE HURRY THE FUCK UP AND START, BASEBALL SEASON, KTHANKS!
25 January 2013 @ 11:12 pm
Sad day
Through

qafmaniac
, I just learned that Valerie Lewis, LJ's

valerie_z
, passed away. Her sister made a post on LJ, you can read it
here
She is and will always be one of my favorite Queer As Folk writers. Blissed and Lucky remain two of my favorite fics ever. I can't read Blissed without nearly peeing my pants laughing. Same goes for Lucky and the infamous 'monkey butler', and of course, Brian Kinney Saves The Universe, aka Brian becomes a US Senator. This is how I will remember her. Her gift for writing the funniest fic ever. She will be missed.
My condolences to her family and friends.
25 December 2012 @ 11:49 am
Merry Christmas!!
Or, if you prefer...
Hope everyone has a wonderful day!
**banner by the wonderful

qafmaniac
14 October 2012 @ 08:19 pm
QAF Icon Scavenger Hunt, part 1
Soooooooooooooo........................

Missing icons?

Yeah, me too.

However...I am a packrat. I have emails from 2002, y'all, seriously! Therefore, I have some hard to find icons.

Someone mentioned that they were missing Paddies' icons. I have 42 saved to my harddrive. I've put them in a folder that I can upload to 4shared. I also have those Framed ones, the all-text ones, Ree's doodle icons, not all, but a bunch, andy_bj's doodle icons, and tons from Tita, Pixie, you name it. So, tell me what you're missing and I'll check to see if I have them.
28 September 2012 @ 01:06 pm
BEST. POLITICAL.AD. EVER.
WATCH THIS RIGHT NOW!!!
http://youtu.be/FTtS17xcr-U
You wanna boost a signal?
BOOST THIS SIGNAL. SEND IT TO EVERYONE YOU KNOW.
ETA: Had to put link in, IJ is being a bitch about embedding.
05 September 2012 @ 08:57 pm
DNC 2012
ANYONE THAT MISSED BILL CLINTON'S KEYNOTE SPEECH TONIGHT, ALL I HAVE TO SAY IS...

"YOU SHOULDA BEEN THERE."
22 August 2012 @ 10:18 am
PORN!!!! I WANT IT ALL!!!!
PORN TIME!!!!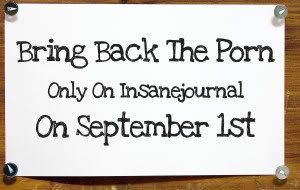 BBTP banner by

maybe742
Remember, Bring Back the Porn is a MULTI-FANDOM endeavor. Meaning that, I don't give a fuck who the characters are, what fandom (if any) they are from. Long as they're doing the deed, it's all good.
Here
is the tags request post for 2012. If your fandom isn't there, comment and it will be added!
13 July 2012 @ 05:47 pm
GO FORTH AND REQUEST SOME KINK!!!!
13 July 2012 @ 02:08 pm
A buttload of thanks
This has been a long time coming, but I actually had 3 days off this week! \o/

Not gonna f-lock or cut this, I want it out there as is.

THANK YOU.

Last time I was here, I asked for help. So many of you did just that, and I just want to take a moment and thank you all, and let you know what's been happening.

First, no longer a one income household! That came around the end of May, and we're still playing catch up. In between bills and whatnot, there was graduation (all done with those!), getting my oldest up from CA...yeah. It was nuts. Still, your help, hugs and well wishes kept me sane. And I didn't even run for the Ativan!

Old friends, new friends, friends that I thought were gone for good, so many of you stepped up. Some offered to write fic, others helped spread the word. A few of you I didn't even know - you contacted me by saying, "I'm so-and-so's friend, they told me about you..." I was stunned. But it reminded me what an amazing vehicle social networking is. We've, a lot of us, given to people and causes because it seemed to be the right thing to do. Know that when I get to that point again, I will pay it forward every chance I get. I am a firm believer in the adage that what you do will come back to you. And with that...

Thank you. Thank you all. May you all know love and joy, and the kindness of strangers. I love you all so much.

Hugs Forever,

Red
15 June 2012 @ 10:21 am
It's a Geminiacal Thang!
Know what today is!?!?
It's my darling twin

florida_minxie
's birthday!!!
I have a surprise for you!!!
HEAD THIS WAY, PLEASE!
I hope you have an awesome day, bb!!
TRULY, MADLY, DEEPLY.
NO BULLSHIT.